1. Obtain Critical IT Asset Data
Express Metrix is a recognized leader in providing the most accurate and comprehensive IT asset reporting available. Express Software Manager provides an intuitive dashboard and graphical summary reports targeted at various audiences including IT professionals, purchasing agents, and senior stakeholders.
The dashboard charts, shown below, can be exchanged or modified to present information most meaningful to you.
2. Ensure License Compliance
This report provides critical data showing your organization's license compliance status.
The detailed portion of the previous report also displays information regarding specific License Units (applications) that are not compliant so that license deficits can be rectified.
3. Reduce Software Spending
The "Unused Software" report provides a summary of software that is installed but hasn't been used over a specified timeframe. When unused software is discovered, significant money can be saved by reallocating licenses to other users, terminating maintenance contracts, and/or renegotiating license agreements that reflect the actual number of users.
The previous report can be filtered by computer to see unused software per machine.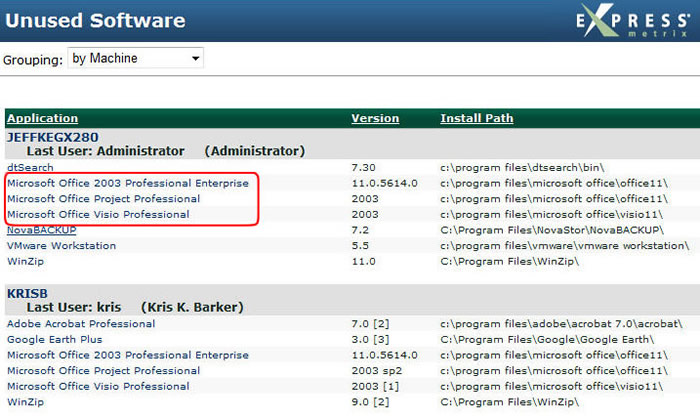 Express Software Manager provides reporting that allows you to analyze the utilization of suites in your environment. In this example, the report shows which components of the suite are installed. Other reports display usage of both the suite and its components. This tells you, for example, where you can save money by purchasing for some users the "Standard" edition of Microsoft Office rather than the "Professional" version.
4. Analyze PC Configurations
The "Custom Hardware Inventory" report provides a view of hardware assets, along with their key attributes such as computer model, operating system, processor speed, and more. In addition, you can modify this report to change what data is displayed, how data is grouped, and apply filters to include or exclude data.
The "Machine Summary" report shows the hardware and software configurations of individual PCs. Help desk technicians find this report extremely helpful in remediating end user desktop technical problems.
The "Machine Attributes" report can be used to quickly locate machines with specific hardware attributes or connected devices. The report below shows RAM capacity and displays the machines with that particular value.
5. Identify and Curb Desktops Vulnerabilities
Express Software Manager helps you easily identify non-standard software that may pose a risk to data security, productivity, or network performance. To view recently added applications, you can sort License Units (applications) by date. In this example (taken from the License Units panel of the Express Administrative Console), we see that a hacking tool called "Convert_TCP" has been recently installed in the desktop environment. You can then drill into the application to determine which user/machines the application is installed on.
Express Software Manager gives you the ability to prevent unauthorized or harmful applications from being launched in your environment based on individual users, machines, or groups. When users attempt to launch the application, a dialog is displayed indicating they are not authorized to do so, along with a customized message, if desired.
The Activity Log allows you to view information about specific application launches. In the example below, you can see failed WinZip launch attempts after application control was enabled.